CREATE WISDOM: Wicked Problems in Healthcare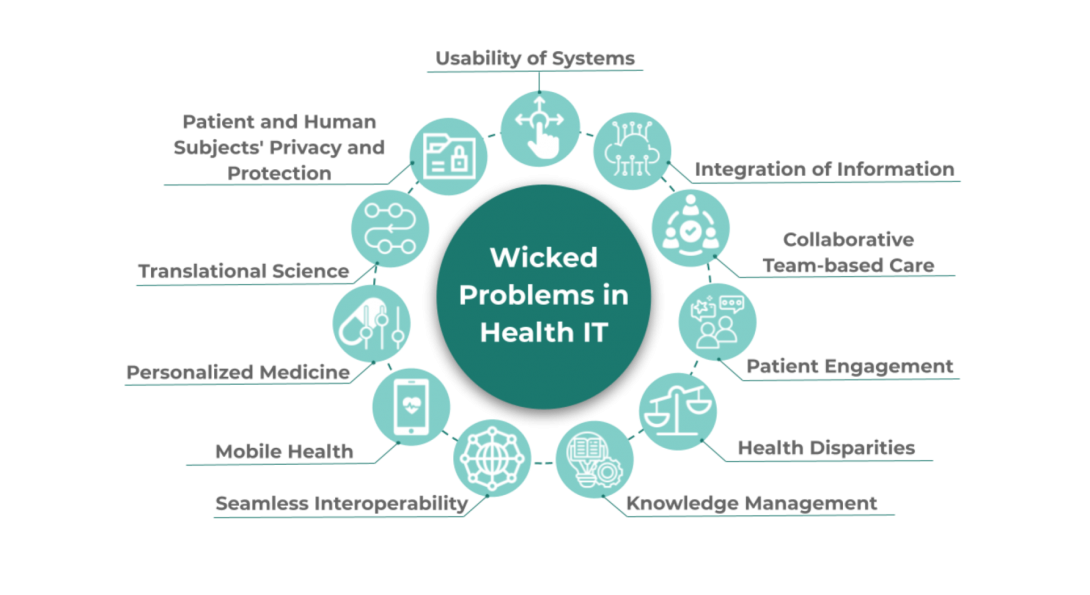 What are wicked problems in healthcare?
Simply put, a "wicked problem" is a social, cultural, or institutional problem that is difficult to solve. These problems can arise for a number of reasons. Disparate goals of stakeholders, changing standards and requirements, and complex interdependencies, for example, can give rise to wicked problems in healthcare. Here we acknowledge some specific wicked problems plaguing the healthcare industry.
Usability of systems

Complicated IT slows the healthcare workflow, diverting time and attention away from the actual work of helping patients. Unfortunately, usability continues to be a concern in healthcare IT, with problems ranging from poor human-computer interaction to difficult integration of information from multiple systems, among others.

Integration of information

A holistic perspective of patient health requires data from multiple sources. The lack of uniformity across various systems makes it difficult and time-consuming to gather patient data, especially when the systems don't "talk" to each other.

Collaborative team-based care

The combination of health providers with different perspectives and specialties can improve outcomes for patients with complex medical profiles. Challenges to teamwork – such as the need for effective leadership, undefined roles, or poor communication – must be anticipated and appropriately handled to ensure effective and efficient treatment.

Patient engagement

Patients have the opportunity to improve their outcomes through active participation in the healthcare process. Gaps in patient knowledge, low motivation, cost barriers, and poor communication can impede patient engagement, making it more difficult for these benefits to be realized.

Health disparities

Some groups of people are disproportionately affected by illness, injury, disability, and mortality. These disparities are often linked with social and economic differences and can profoundly impact the health of a community and future generations. The root causes of health inequity are complex and multi-layered, but understanding these causes is essential to promoting the health of the broader community.

Knowledge management

Knowledge management is the process of obtaining, developing, sharing, using, and managing knowledge within an institution. Obsolete technology, hard-to-find information, and rapid influx of new data present challenges to the effective transformation of large amounts of data into relevant clinical information.

Seamless interoperability

Interoperability, like integration of information, refers to interconnectivity. Going beyond simple translation of data across systems, interoperability aims for efficient and simple data management and timely availability of information.

Mobile health

Mobile applications present an opportunity to significantly increase the efficiency of health delivery services. The result is the potential to improve not only the patient experience, but clinical and operational processes as well. However, effective mobile health is not without its obstacles, with the goals of usability, data security, and reliability each bringing their own set of challenges.

Personalized medicine

The concept of personalized medicine stems from the idea that medical treatment should be tailored to meet each patient's unique needs. The approach incorporates a person's molecular and genetic profile into the factors informing treatment decisions. The prospect of personalized medicine prompts a host of challenges, including privacy concerns and the rights of family members with shared DNA.

Translational science

Translational science refers to the process of turning scientific knowledge into patient applications and treatments. In some instances, the predicted benefits of laboratory findings are not fully felt in clinical settings. A potential contributor to this problem is the gap in expertise and priorities between laboratory scientists and clinicians, as well as inefficient communication.

Patient and human subjects' privacy and protection

There is often a trade-off between public knowledge and individual protection. In instances when a patient or human subject can play a role in furthering public knowledge, that knowledge cannot come at the cost of the rights and well-being of the individual.