Providing Comprehensive Patient Care for Illinois & Beyond
In addition to the seven UIC health sciences colleges, UI Health is comprised of a robust healthcare delivery enterprise that serves individuals and families in Illinois and across the globe. UI Health provides diverse clinical services through primary and specialty care at the University of Illinois Hospital & Clinics, the Mile Square Health Center network and many other health sciences college faculty practice clinics.
The University of Illinois Hospital & Clinics
The University of Illinois Hospital & Clinics is the State of Illinois' only public general hospital, consisting of a 460-bed hospital; the Children's Hospital University of Illinois (CHUI) - which includes a 101-bed specialty pediatric hospital with a 55-bed NICU; and an Outpatient Care Center that houses 21 primary and specialty care clinics. With nearly 140,000 unique patients and 500,000 annual clinic visits (in FY18) the University of Illinois Hospital & Clinics is committed to the pursuit of health equity ensuring that safe, high-quality, and cost-effective care for our patients is our foremost responsibility.
The Mile Square Health Center (MSHC) Network
Established in 1967, The Mile Square Health Center network is among the first Federally Qualified Health Centers in the nation. Employing a community-based practice model, MSHC operates 14 locations across the Chicagoland region: eight primary locations and six school-based health and wellness centers, plus two satellite locations.
Faculty Practice Clinics
The academic experts in the 7 UIC Health Sciences Colleges bring leading-edge research and innovation into their clinics. With numerous clinics in the medical district and across the state, UI Health faculty offer services through the UIC College of Dentistry, the UIC College of Applied Health Sciences, and more.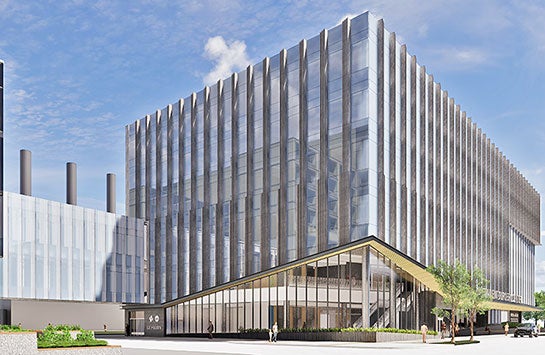 Several capital projects are expanding access to high-quality and cost-effective health care for Chicago families:
The new 55th & Pulaski Health Collaborative, serving the Gage Park and West Elsdon communities, increases access to specialty care, care coordination, urgent care, behavioral health, dental care, women's health, and advanced diagnostics.
The UI Health Mile Square Health Center Primary and Immediate Care Center, serving the Auburn-Gresham community, opened in summer of 2022 and will serve more than 8,000 individuals annually with primary, dental, and behavioral health needs.
Opened to patients on September 26, 2022, UI Health's new Specialty Care Building (SCB) is a 200,000-square-foot facility featuring six floors of patient care space to accommodate the increasing volume and complexity of surgical care, education, and research.
Opening in Fall 2022, the Welcome Atrium at the University of Illinois Hospital will be a new two-story lobby that welcomes patients and their families and with a first-class healthcare experience.