UI Health is an LGBTQ+ Healthcare Equality Leader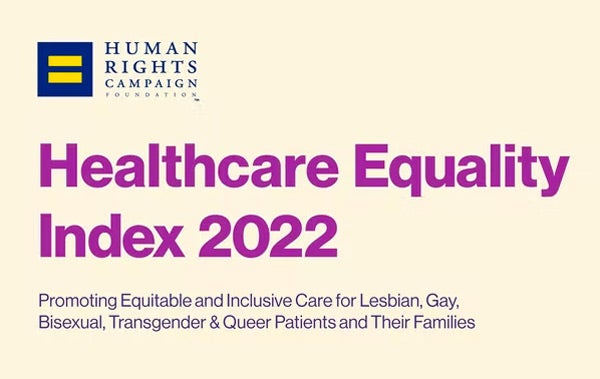 The Human Rights Campaign has honored University of Illinois Hospital with a score of 100% on their 2022 Healthcare Equality Index, for its implementation of LGBTQ+ policies and practices, and transgender-inclusive healthcare benefits. This score makes the hospital an LGBTQ+ Healthcare Equality Leader, one of only 496 hospitals nationwide to receive leadership designation.
This recognition reflects a multi-year initiative undertaken by UI Health to create a more diverse and inclusive space for patients and their families, as well as for faculty and staff. The initiative included an evaluation of policies and practices, as well as an awareness-raising campaign to promote inclusive language and practices among hospital employees. The electronic health record system was updated to include information such as pronouns. Additionally, employee benefits were evaluated to ensure that they are inclusive, supportive, and gender-affirming.
Cheryl Pinotti, UI Health's director of patient & guest experience, was instrumental in the success of the project. "This designation from the Human Rights Campaign confirms our commitment to promote equity, diversity, and inclusion practices across the organization, in building a health system that is welcoming to all," she said.
Dr. Robert A. Barish, UIC vice chancellor for health affairs, said, "Core to our mission at UI Health is the pursuit of health equity for all marginalized populations and communities, and that includes delivering compassionate and inclusive care for the unique needs of the LBGTQ+ community."
For their involvement in this important undertaking, special thanks are extended to Dr. Michelle Mariscalco, assistant vice chancellor for health sciences academic affairs; UI Health administrative fellows Cotis Mitchell, Paige Doran, and Mary Kate Titus; UI Health LGBTQ+ patient navigator Robbe Walton; and the project's executive sponsor, Nick Haubach, UI Health chief human resources officer.
Learn more about UI Health's LGBTQ+ inclusive care at LGBTQ.UIHealth.Care.
Modified on August 17, 2022