Gov. Pritzker Announces New Reproductive Health Initiative, UI Health Physician Co-Directs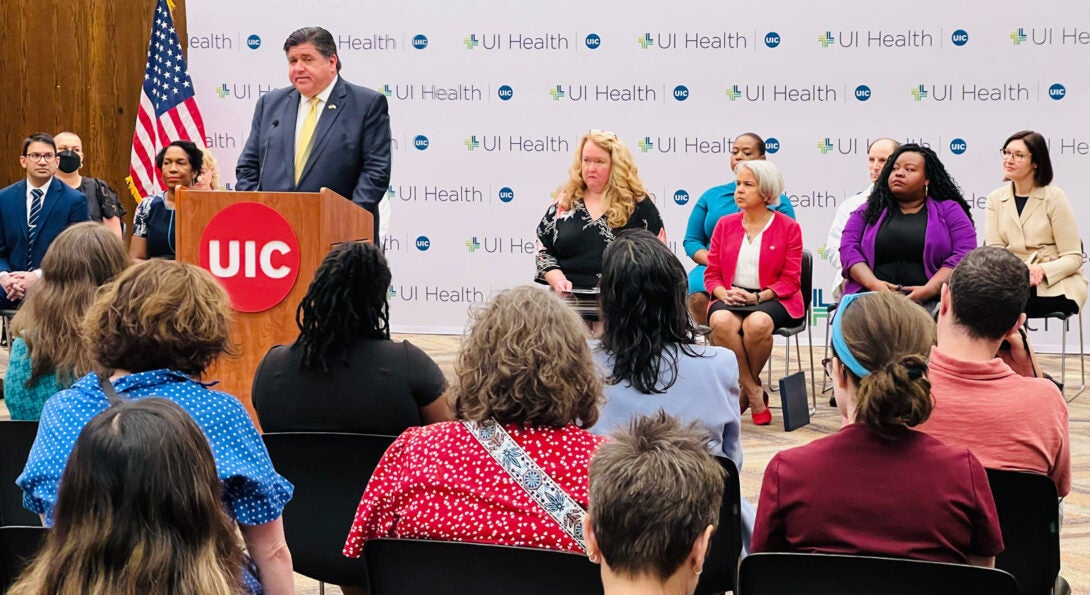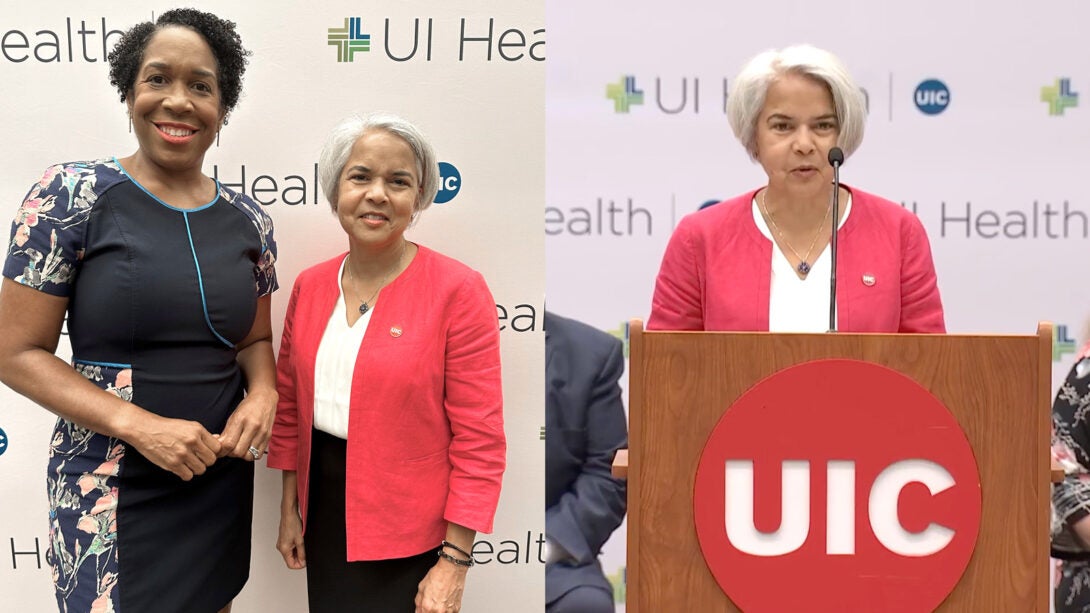 On July 31, 2023, Gov. Pritzker held a press conference in UIC's Student Center West, joining with other state leaders, healthcare providers and advocates to announce several initiatives and programs targeted at lowering barriers to the access of reproductive care.
The United States has the highest rate of maternal mortality among industrialized nations, and for Black and Latinx women the maternal mortality rate is several times higher than that for white women. Against that baseline, women living in poor or otherwise marginalized communities often experience complex medical conditions that put them at an even higher risk of illness and death during or following pregnancy. With the overturn of Roe V. Wade by the Supreme Court of the United States, many pregnant women with complex medical needs are experiencing multiple barriers in accessing the reproductive health care that could save their lives.
At the press conference, UIC Chancellor Marie Lynn Miranda introduced Gov. Pritzker and set the tone for his announcements. In her remarks, the chancellor emphasized UIC's dedication to health equity. "We are committed to being part of the solution among academic and clinical experts, legislative leaders, public health advocates and patient voices to reduce disparities and improve access for care to all those who seek it," the chancellor said.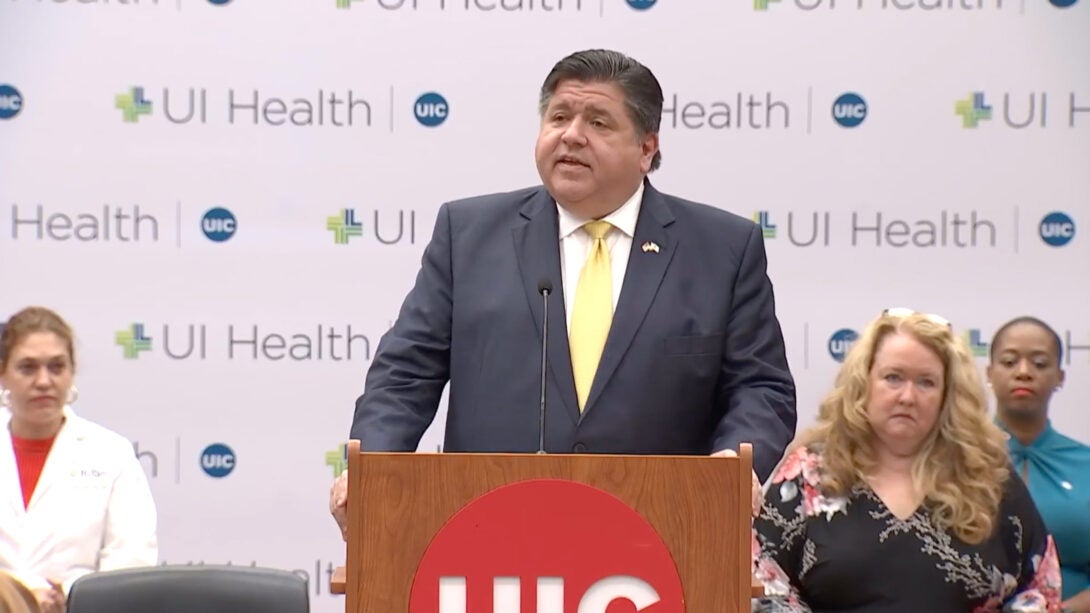 Gov. Pritzker went on to explain the many initiatives being launched that will sustain access to reproductive health care. "Unlike some other states, in the fourteen months since the Supreme Court made the archaic and destructive decision to overturn Roe V. Wade, Illinois has doubled down on our commitment to protect and expand reproductive rights for patients and providers alike," he said. "This most recent batch of nation-leading policy expands access even further—because in the Land of Lincoln, we will not go backwards. Illinois will remain a safe haven for women, and I will continue to do everything in my power to ensure widespread, equitable access to reproductive rights."
The centerpiece of this coordinated effort is the Complex Abortion Regional Line for Access (CARLA). It is a leading-edge initiative designed to help women with complex medical needs access reproductive care in a hospital setting, where their complex needs can be adequately met. It is a partnership between Illinois Healthcare and Family Services, the Illinois Department of Public Health, UI Health, Rush, Northwestern, University of Chicago, and the Chicago Abortion Fund. CARLA is a hotline staffed by specially-trained nurses to aid patients in scheduling appointments with participating hospital systems, acquiring required pre-operative testing, and arranging payment, transportation and childcare during their treatment.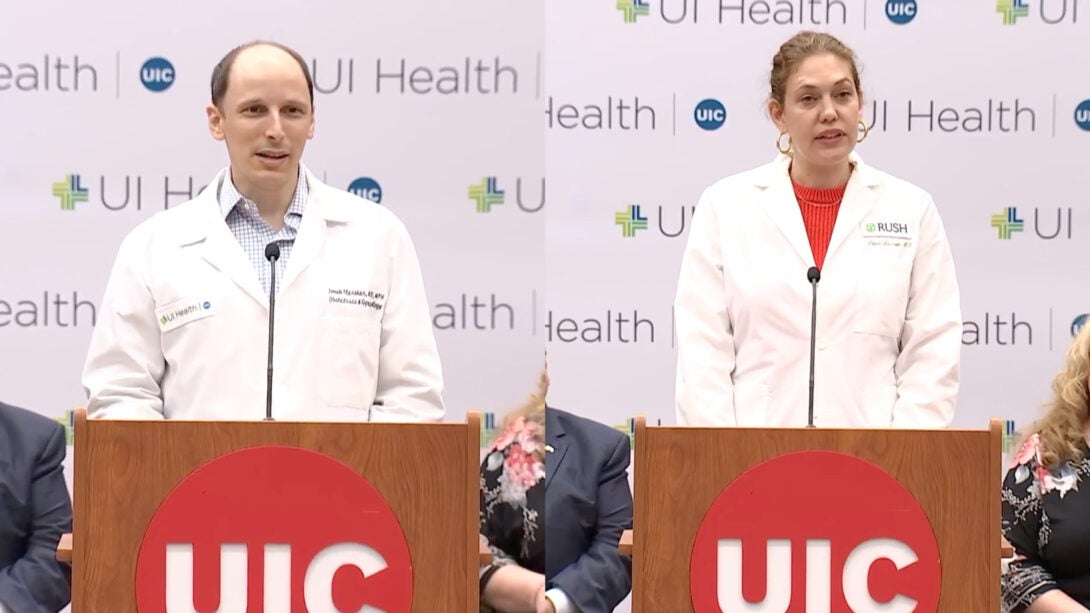 Dr. Jonah Fleisher, medical director of UI Health's Center for Reproductive Health and assistant professor of clinical obstetrics and gynecology in the University of Illinois College of Medicine, is co-directing CARLA with Dr. Laura Laursen of Rush University Medical Center. Dr. Fleisher explained that the abortion bans in states surrounding Illinois have compounded the maternal health disparities already produced by systemic racism. "This harm falls especially on people who have limited means and who experience more barriers to care, such as people with lower incomes and BIPOC people," he said. "CARLA is attempting to break down these additional barriers to care for women who have complex medical problems, who are most at risk of physical illness and death if they continue their pregnancies."
Modified on August 11, 2023