55th & Pulaski Health Collaborative Ribbon Cutting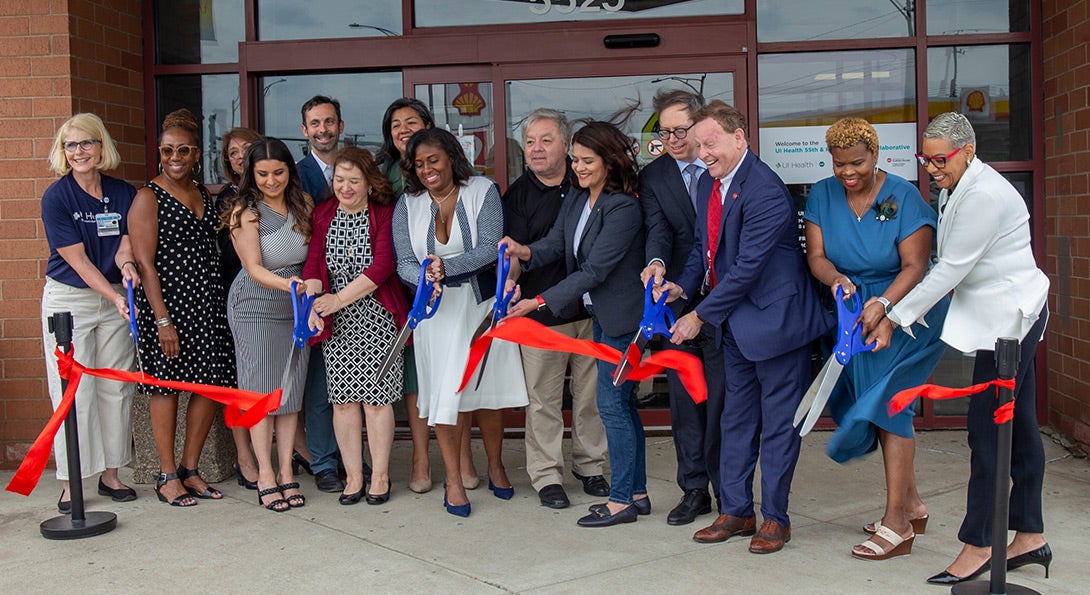 Bringing Health Equity to Chicago's Southwest Side
UI Health formally inaugurated the 55th & Pulaski Health Collaborative with a ribbon cutting ceremony on Friday, May 20, 2022. Participating in the celebration were key stakeholders and dignitaries from UI Health, the community, and state and local government, including Illinois Lt. Governor Julianna Stratton and the Assistant Director of the Illinois Department of Healthcare and Family Services (HFS). The Health Collaborative is the first of many Healthcare Transformation Collaboratives funded by HFS last year.
In September of 2021, UIC purchased and began renovating a former clinical facility, and in February of 2022 the 55th & Pulaski Health Collaborative welcomed its first patients. The collaborative promotes health equity in Chicago's Gage Park and West Elsdon communities by providing comprehensive specialty healthcare services, and by addressing social and structural determinants of health.
The project was spearheaded by physician leadership at UIC's College of Medicine, and brings together seven community partners, including three federally qualified health centers: Alivio Medical Center, Friend Family Health Center, and UI Health Mile Square Health Center.
The collaborative also includes the UIC College of Applied Health Sciences, which provides physical therapy, occupational therapy and nutrition services, and the UIC Office of Community Engagement and Neighborhood Health Partnerships, which supports community engagement and oversees an integrated care coordination model to help address social determinants of health.
"There are so many people to thank for making this a reality, and what this partnership has achieved is truly remarkable," said Dr. Robert A. Barish, UIC Vice Chancellor for Health Affairs. "The Health Collaborative is innovative and impactful because of the range of expertise that has been brought together. To thrive, community members need healthy homes and a diverse and culturally competent set of experts delivering comprehensive care, and that's exactly what the 55th & Pulaski Health Collaborative delivers."
Modified on August 15, 2022