Governor Pritzker at UIC to Announce Capital Improvements and for Bill Signing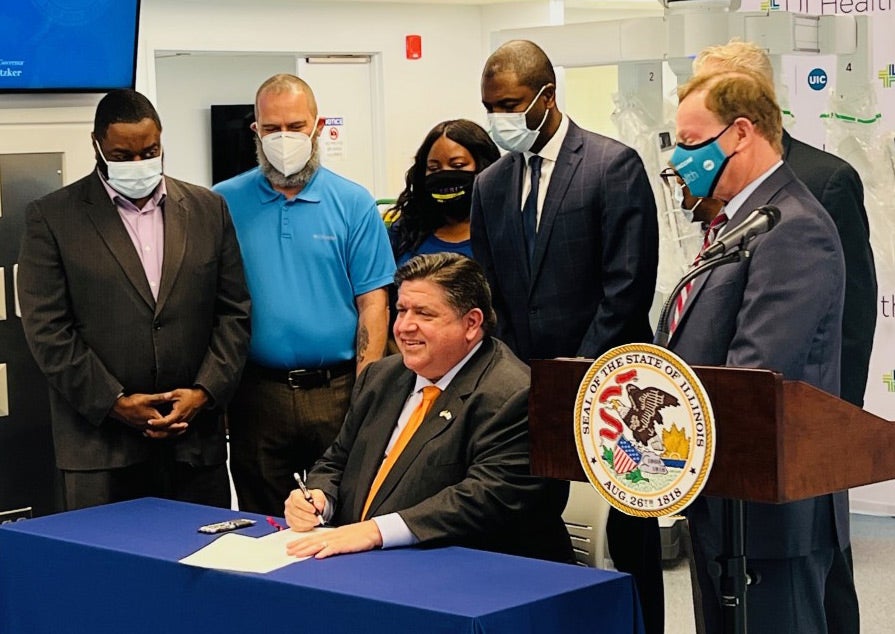 On April 29, Illinois Governor JB Pritzker joined UIC and local leaders to announce a $20 million investment from the state for a much-needed update to the College of Medicine East Tower. Completed in 1937, the building is one of the most architecturally distinguished and historic buildings on UIC's health sciences campus and will now receive needed construction and restoration made possible by the Rebuild Illinois capital plan.
Then, on June 10, Governor Pritzker held a press conference at the Surgical Innovation and Training Laboratory to sign HB5318, which requires health insurance to increase access for prostate cancer screenings without imposing any cost-sharing requirement. Also present for the signing were Illinois State Senator Emil Jones III and Illinois State Representatives La Shawn K. Ford, Lakesia Collins and Nicholas Smith. Video of the signing with opening remarks by Vice Chancellor for Health Affairs Dr. Robert A. Barish can be viewed on the Governor's Facebook page.
Modified on August 17, 2022