As UIC's academic health enterprise, UI Health has been at the forefront of the COVID-19 response and relief efforts through its adjustment of clinical programming, establishment of community testing sites, launching clinical trials and providing expert guidance to policy and advocacy experts.
The COVID-19 pandemic has only amplified the health disparities present among our communities – especially among neighborhoods and communities on Chicago's South and West Sides. UI Health is uniquely positioned to address these issues with expertise from across seven health sciences colleges and our hallmark strategic commitment to serving under-represented communities in the pursuit of health equity.
Community-based COVID-19 Relief Programs Heading link
The UI Health Mile Square Health Center (a network of Federally Qualified Health Centers), the UI Health Office of Community Engagement and Neighborhood Health Partnerships (OCEAN-HP), and many other stakeholders across the University are implementing plans and activities that directly engage and benefit community members, including:
Mile Square Food Pantry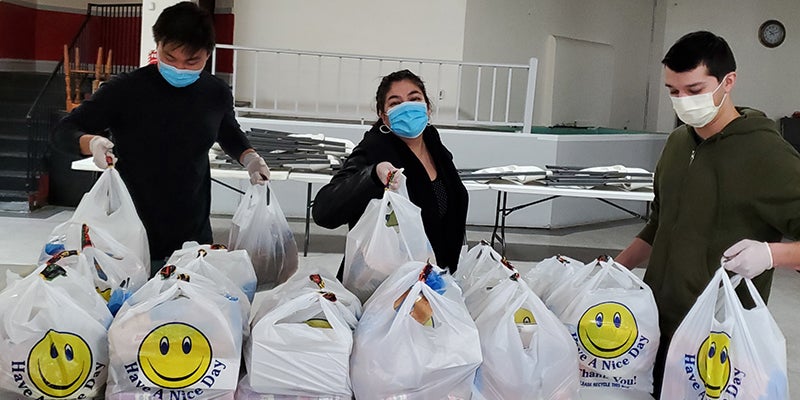 This collaborative effort among the Colleges of Medicine, Dentistry, Pharmacy and the School of Public Health connected with Blue Cross and Blue Shield of Illinois, Jewel-Osco and Mariano's for a program that aims for providing 50 food boxes per day (Monday – Saturday) to COVID-19 positive Medicaid patients and their families. The program originally targeted individuals in the South Shore area every 4-5 days while patients were in quarantine. Now, the program has expanded to support zip codes, primarily on Chicago's West Side, where COVID-19 hotspots arise. The program distributed 1300 boxes in the first three weeks.  The case management team calls patients, and student volunteers from the College of Pharmacy, School of Public Health and Dentistry package food based on patient information – personalizing the boxes based on allergies and medical conditions and connecting the patient to medical care if they request an appointment. This program works with local food pantries and churches that have a relationship with the community to assist with delivery and packaging. Identified partners include St. Luke's Missionary Baptist Church among others.
PRIMARY CONTACT:
Sobadeh Etminan, DDS – setmin1@uic.edu or cadagoi2@uic.edu
Pediatric Dentistry, Mile Square Health Center
Mile Square Patient Community Kit Delivery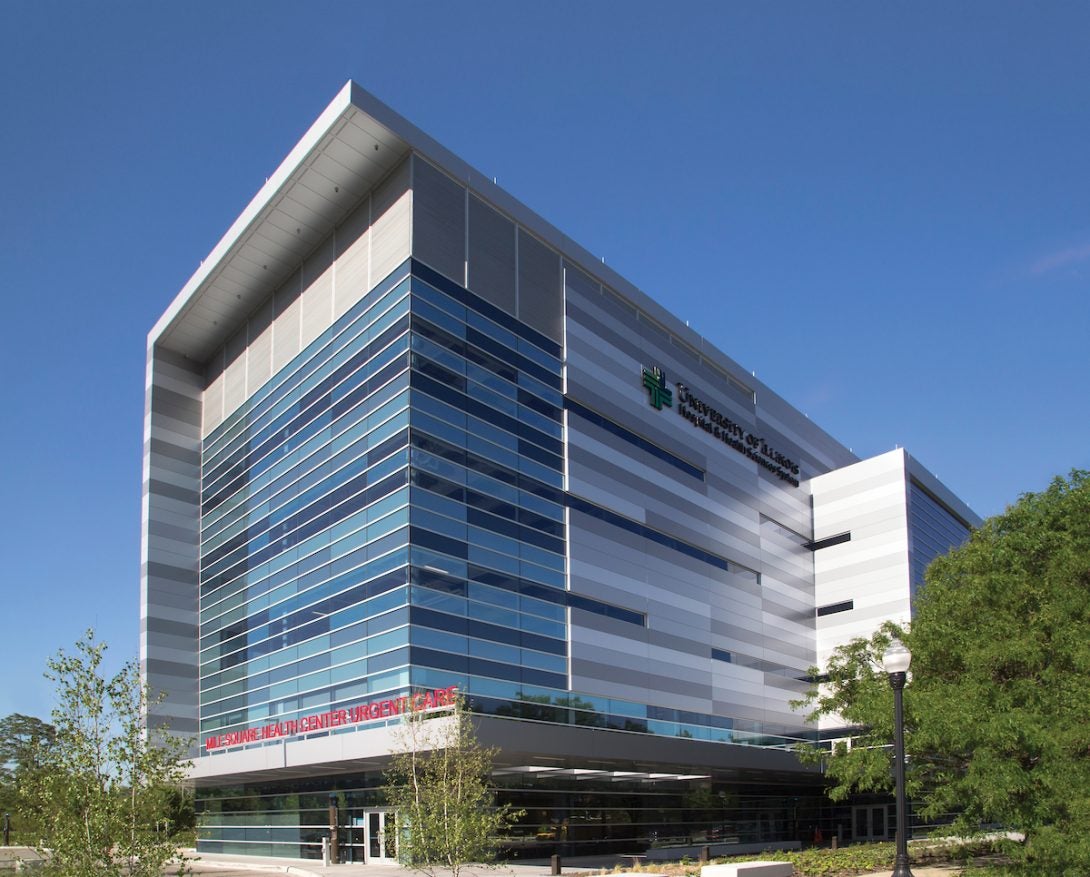 In partnership with the University of Illinois Cancer Center and the Residential Association of Greater Englewood, Mile Square has started distribution of 7,500 community kits – which include masks, hand sanitizer and educational material. To date these efforts have supported 500 home deliveries of boxed food and over 1000 masks and hand sanitizer.
PRIMARY CONTACT:
Karriem S. Watson, DHS, MS, MPH kswatson@uic.edu
Associate Executive Director, Mile Square Health Center UI Health
Associate Director, Community Outreach and Engagement UI Cancer Center
Research Assistant Professor, UIC School of Public Health Community Health Sciences
Masks for Moms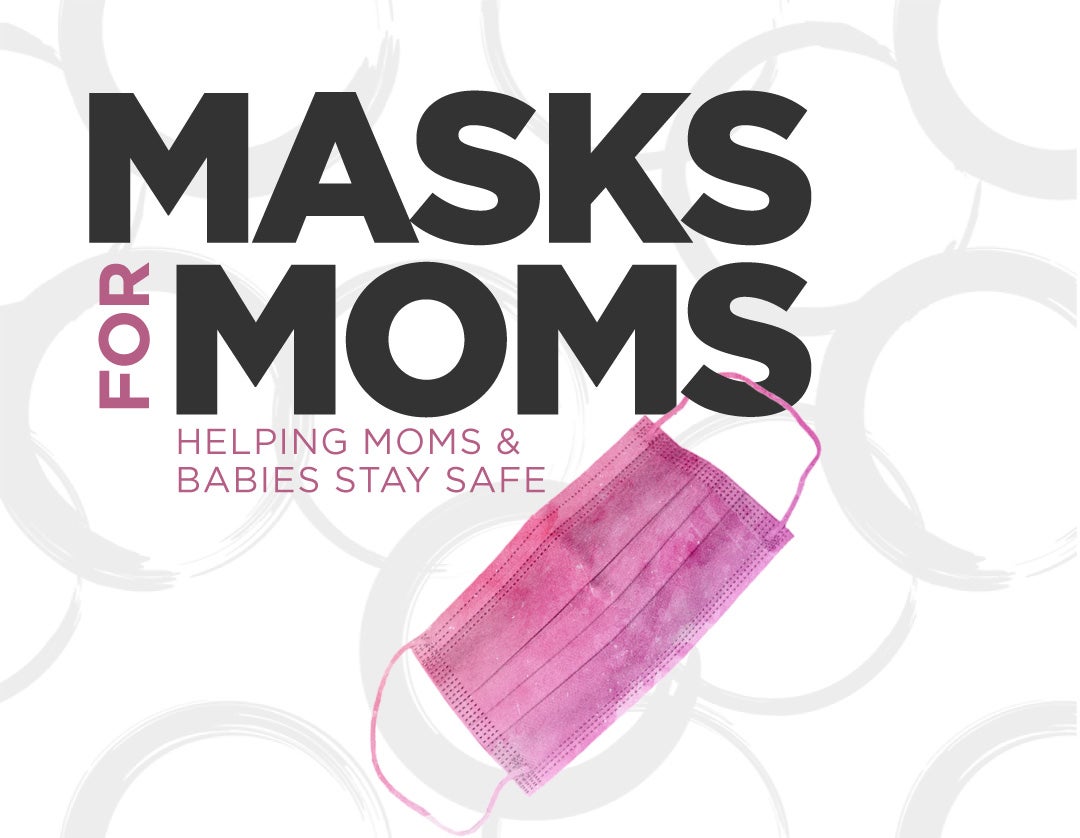 The UIC Center for Excellence in Maternal and Child Health, in partnership with Black Girls Break Bread and other community organizations, is leading an effort to provide expectant mothers with masks in preparation for their trip to a hospital for delivery.  Homemade masks have been created and donated from around the country, and SPH faculty and students are coordinating the distribution of these masks to areas of need throughout the city.
PRIMARY CONTACT:
Arden Handler, DrPH: handler@uic.edu
Director, Center of Excellence in maternal and Child Health, School of Public Health
This initiative has now started collecting donations of other childcare supplies for infants and babies. Share Our Spare is NOW collecting Diapers, Wipes, and Formula for communities which have been hard hit by the events of recent weeks in the aftermath of the killing of George Floyd. Donations can be dropped off between 9:00 AM – 4:00 PM from June 11 – July 17 at Share Our Spare located at 935 W Chestnut Ave., Chicago, IL 60642. For more information contact Alex Goodfellow at 314-495-4556.
Community Response Teams
School of Public Heath Incident Response Team: The SPH Incident Response Team established a platform for requests from local, state health departments and other community partners for support and technical assistance from our public health experts. Requests have included strategies for reopening school districts, disinfectant techniques, and supporting community-led initiatives and has responded to over 180 individual requests.
Additionally, the UIC COVID-19 Community Engagement Strike Force is connecting community-based research to the immediate needs of the COVID-19 pandemic in neighborhoods of the South and West Sides of Chicago – closely linked to the Mayor's priority hot-zone neighborhoods and with the efforts of West Side United.
Caring for Chicago's Homeless
Family Medicine physician, Evelyn Figueroa, MD developed a response team for the Pacific Garden Mission – Chicago's largest homeless shelter – providing over 200 individuals experiencing homelessness infirmary-level care. Infectious disease physician, Stockton Mayer, MD joined The Unsheltered Chicago Coalition – a collaboration between city health providers and organizations to test for and mitigate COVID-19 outbreaks among Chicago's vulnerable homeless population. Mayer, alongside Richard Novak, MD, are guiding the development of testing in Westside crisis shelters.
Contact Tracing Corps
The UIC School of Public Health is partnering with the Chicago Cook Workforce Partnership, NORC at the University of Chicago, Malcolm X College and the Sinai Urban Health Institute to carry out contact tracing services in Chicago – with an effort focusing on communities most impacted by the COVID-19 pandemic. The Chicago Department of Public Health announced a $56 million grant in support of the development of the Contact Tracing Corps and Resource Coordination Hub which will hire 600 people in Chicago communities. While a majority of the grant will go directly to at least 30 community-based organizations the School of Public Health is providing expert training and management of the Contact Tracing Corps with hopes to inspire interest in career pathways in the health professions and public health.
COVID-19 Community Educators
Our School of Public Health's Community Outreach Intervention Projects (COIP) was recently also funded through a partnership with AbbVie to hire staff to promote awareness and educate high-risk neighborhoods in Chicago about prevention and risk mitigation strategies to address COVID-19 in Austin, Uptown and West Englewood.
COVID-19 Community Ambassador Program
In partnership with the City of Chicago and the Chicago Cook Workforce Partnership, UIC will be hiring 24 Community Ambassadors to inform and educate residents on effective strategies to prevent the spread of COVID-19 through physical distancing, frequent handwashing, face coverings and getting tested. Beginning in August, ambassadors will focus in areas of Auburn Gresham, Austin, Belmont Cragin, Humbolt Park, Little Village and South Shore.